Dallas Speech Therapy Clinic Jobs
What makes Dallas Reading and Language Services a great place to work?
Our kids love coming to therapy, our therapists love coming to work, and our parents love the progress their kids are making. 
We understand that the work our SLPs do changes children's lives.  That's why we've created a culture and organizational systems that allow our SLPs and Assistants to focus on exactly that. If you want to be part of our team serving our community see our job descriptions below.
Email Resumes and cover letters for current job openings to drls@dallasspeechtherapy.com with the subject "SLP resume" or "SLP-A Resume"
We are currently looking for Part time and PRN speech therapists to work During peak times, usually in the after school hours (from 4-7 or 8)  two days a week.
We are NOT currently hiring for the below positions
We are always accepting resumes to review as openings become available.
Patient Scheduling Coordinator
Full Time Speech Language Pathology Assistant
Be the first to know when we are hiring for this position

What makes Dallas Reading and Language Services a great place For SLP-Assistants?
We understand that the work our team does changes children's lives. It starts with a manageable workload. You can't support the lead SLPs and help kids reach their goals, if you are stretched too thin.
We also provide complete back-office support so you can learn how to apply your clinical skills to their fullest and not be burdened with paperwork, insurance, and administrative headaches.
If you are an SLP- Assistant, have great interpersonal skills and an unwavering commitment to helping kids and your co-workers, Dallas Reading and Language Services is the place for you!
Ideal Candidate has:
Bachelors Degree in Speech Pathology/Communication Sciences
Current SLP Assistant License or Prerequisites to be a Licensed SLP-Assistant in TX
40 hours of availability for a 2-year contract within our office hours, which are 7AM – 7 PM Monday and Friday, 7AM – 8PM Tuesday and Thursday and Sat by appointment only.
Exceptional communication skills
A passion for working with children and their parents
Ability and desire to work with children of all ages and disorders
Creativity, flexibility, and willingness to learn new skills
Bilingual in Spanish and English preferred, but not required
Personal transportation to the clinic
Responsibilities Include:
Assisting with writing and executing targeted treatment plans for children with various speech and reading disorders
Supporting lead SLPs in planning for sessions and providing support as needed
Assisting in diagnostic evaluations as necessary
Assisting with the overall operation of the practice
Contributing to a high-performing, collaborative office and team environment
Competitive Benefits:
Paid time off + Holidays
Health insurance: Choose between 3 BCBS gold and platinum plans.
BCBS Dental coverage
IRA with employer matching
Profit sharing after three years
About Dallas Reading and Language Services
We are proud to be rated Best Speech Pathologists in Dallas by Expertise and Mom Approved by DFW Child for the past three years.
We are passionate about helping every single client build the skills they need to be successful in school and life. And we do that in a fun and supportive environment.
The goal at Dallas Reading and Language Services is always client graduation – not never-ending therapy and billable hours. It's always bittersweet to say goodbye to a child, but the smile on their face when they've earned their Graduation Certificates is exactly why we became SLPs.
APPLY HERE
Or email your resume and cover letter to drls@dallasspeechtherapy.com with the subject "SLP Assistant Resume"
Patient Scheduling Coordinator
Patient Scheduling Coordinator - Bilingual
Be the first to know when we are hiring office staff:
Dallas Reading and Language Services is looking for an experienced professional, energetic, organized, and driven person to join our team in a patient scheduling coordinator role to help support and grow our existing clinic.

The right candidate will be a natural self-starter with strong attention to detail. We will train on specific task items listed below, though the right fit will quickly and easily pick up responsibilities and manage them on their own. We need a fun, vibrant, engaging Patient Scheduling Coordinator to further our exceptional culture as we expand.

Our practice is a successful pediatric therapy organization with a start-up mentality driven on delivering the highest quality patient care experience. This candidate must not be afraid to do anything scheduling, marketing, cleaning, customer service, collections, etc.

Skillset:

You have the ability to connect, motivate, and empower all those around you inclusive of customer service, patient onboarding, and have an authentic quality to your sales approach.

You are not afraid to get your hands dirty and will do any job to advance the progress of the company

You are compassionate with a high EQ we work with kids with developmental delays and their families.

You are punctual, reliable, and your actions match your words

Strong and fluent oral and written communication.

You are a creator, a doer, a leader, & most importantly an effective communicator

You have a familiarity with healthcare insurance and basic insurance jargon.

You are purpose-driven and driven by making a difference beyond just financial ambition.

You have natural salesmanship and are able to deliver the highest customer service and overcome obstacles seamlessly

Responsibilities:

Create and maintain an incredible work culture that stimulates staff enthusiasm, collaboration, and rapport between colleagues

Create and maintain an incredible patient experience and culture that stimulates positive reviews and referral growth

Facilitate and oversee the entire intake, customer service, and patient onboarding experience to increase patient census, scheduling, and overall growth to multiple clinic locations

Use your sales and empathy skills to engage and influence parents

Ensure therapists are well supported by maintaining inventory through collaboration with staff and clinic director

Answer inbound phone calls from clients and potential patients

Help to plan team events and celebrations

And any additional duties that the leadership team assigns as appropriate

Requirements:

2+ years of administrative, customer service and operational management, or related experience

Extremely intelligent and detail-oriented

Strong work ethic

Outgoing personality with excellent communication skills (written, verbal, interpersonal)

Does not get rattled easy and incredible at multi-tasking

Results-oriented

Experience in pediatric therapy operations (preferred)

Strong technology and computer skills
Health insurance: Choose between 3 BCBS gold and platinum plans.
BCBS Dental coverage
Vision
401K with employer matching
12 Paid time Off Days + 13 Paid Holidays
Email your resume and cover letter to drls@dallasspeechtherapy.com with the subject "Bilingual Patient Scheduling Coordinator"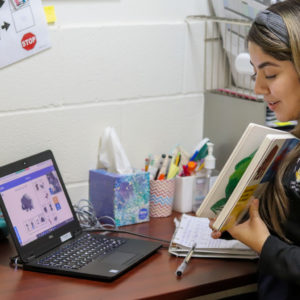 During the pandemic, many speech therapy clinics moved toward online speech therapy for their local clients. However, online speech therapy has been around since long
Read More »