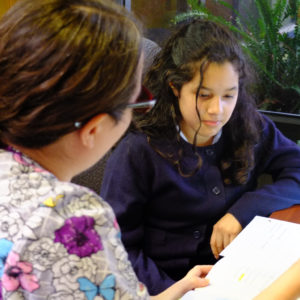 Although reading tutoring is a non-medical service and can't be billed to insurance, our licensed Speech-Language Pathologists with advanced training in speech and language development will still create a plan of care specifically for each student. This new plan will allow students to not only make fast progress on their goals, but also ensure that this progress continues outside of sessions, in environments such as at home or school.
How much does it cost for reading tutoring at Dallas Reading and Language Services?
Reading tutoring is billed at the same rates as our private pay speech therapy services.
How is Speech Language Therapy Related to Reading?
Reading is part of a language hierarchy.
At the base of the hierarchy is a representation of experiences and knowledge which children use to build their basic vocabulary and language skills.
As children become more skilled and receive formal instruction, they are able to place the abstract sounds of our language and the letters that represent them together to create meaning, or written words.
Reading is another symbol-system imposed on top of our language.
If a child experiences a weakness anywhere in this hierarchy, difficulty with higher level skills, such as reading and writing, will result.
This is why children with speech or language difficulties as preschoolers are at a higher risk of having learning problems in school, particularly when learning to read.
The American Speech-Language-Hearing Association, which is the national governing organization for speech-language pathologists and audiologists, encourages Speech-Language Pathologists to use literacy-rich activities within speech-language therapy.
ASHA also recognizes the importance of reading and writing as language skills, and places them within the scope of practice for a speech-language therapist to address with clients.
Speech therapists can work on reading, and they should.
Dallas Reading and Language Services provides reading evaluations as well as traditional speech-language pathology services to children, toddlers, adolescents and youth up to high-school age in the Dallas, Texas area.
Click here to contact Dallas Reading and Language Services today for details of speech and reading services costs on behalf of your child!