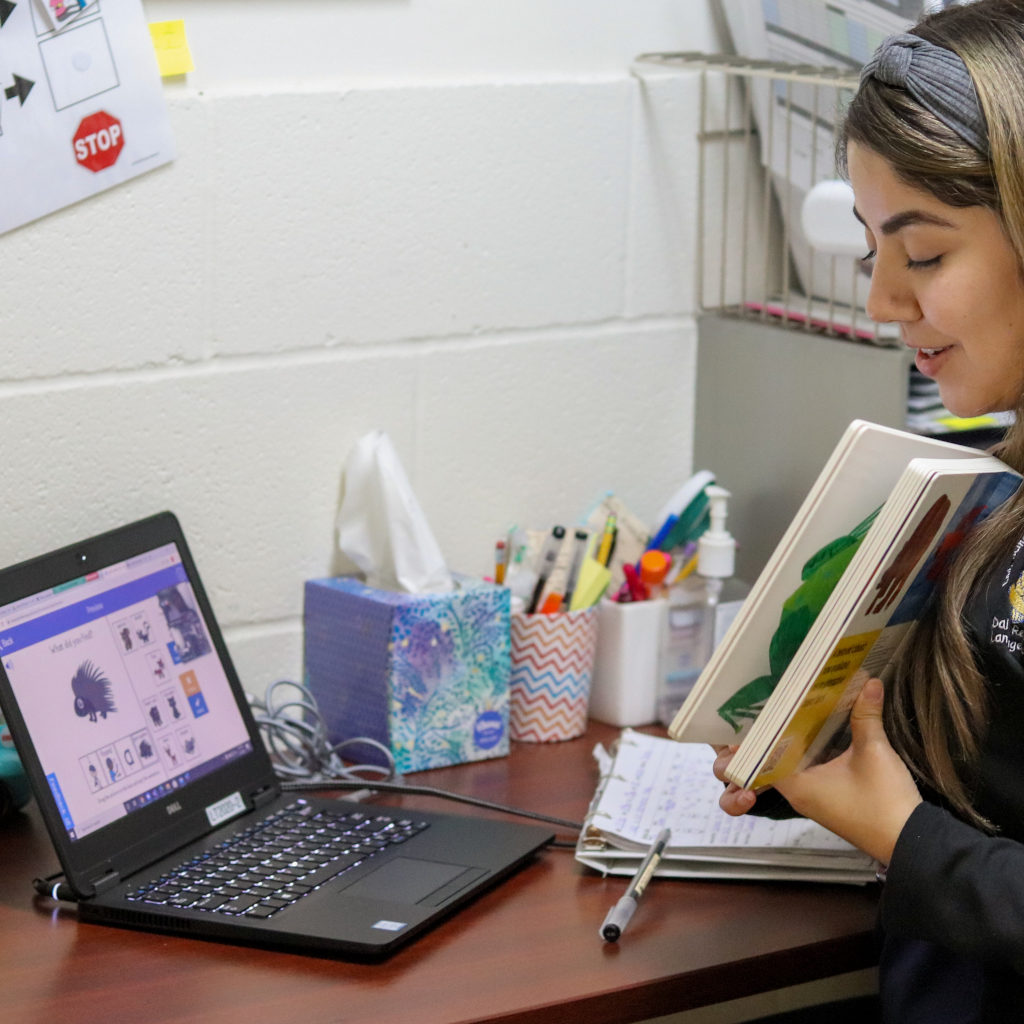 During the pandemic, many speech therapy clinics moved toward online speech therapy for their local clients. However, online speech therapy has been around since long before the COVID-19 pandemic began. From the beginning, one of the greatest benefits of the online speech therapy movement was providing access to rural populations. This continues to be true, especially in the large state of Texas. Online speech therapy in Texas allows speech therapy clinics to provide services to families that might otherwise go without.
Will online speech therapy be effective for my child?
While some children have more success with in-person therapy, others do just as well, if not better, via speech teletherapy sessions. Children have the opportunity to engage one-on-one with the speech therapist while also engaging with technology, which is often very motivating.
The American Speech and Hearing Association (ASHA) has deemed online speech therapy an appropriate and effective way for Speech-Language Pathologists (SLPs) to reach a broader audience. Over the past year, we have seen positive outcomes for the majority of our patients being seen via online speech therapy. We work closely with families to ensure that online speech therapy is the right fit before proceeding. However, with access to parent coaching and direct video conferencing with your child, we feel confident that some form online speech therapy will be a good fit for most children.
Who will be working with my child?
Online speech therapy gives you access to the same highly qualified Speech-Language Pathologists and Speech-Language Pathology Assistants that work at our in-person clinic. With over 30 years joint experience, your child's services will be supported by a diverse and knowledgeable team. Our team members love children and always strive to make therapy fun and engaging!
Want more information about our therapy team? 
How can I access online speech therapy sessions?
The first step is to call and schedule a free, online screening for your child. This will allow you to meet virtually with one of our Speech-Language Pathologists to discuss your concerns and determine if online speech therapy is right for your family. Next, you and your child will participate in an online speech and language assessment. This will further assess your child's needs and help determine the course of treatment. Finally, your child will begin online speech therapy sessions. These typically take places two times a week for 30 minutes, although frequency and duration are determined based on the needs and abilities of each child.
Speech teletherapy services require both audio and video access, so you and your child can collaborate with the therapist in real time. Families typically experience the most success with laptop and desktop computers. However, we also have clients who use Chromebooks, iPads, and even cellular telephones successfully. Appropriateness of devices may vary based on your child's abilities and need for access to more advanced technology. Additionally, a strong internet or cellular service connection is needed to ensure real time streaming for virtual speech therapy sessions.
With the technology available in most homes today, your child can quickly be on their way to improved speech and language skills!
Access for All
Technology continues to help us close the gap in access to necessary services that many rural communities experience. We love the opportunity to meet and help families from all over Texas. Near or far, we always feel honored when families trust us to be a part of their child's life. We believe that communication is a basic human right and that access to help with communication should not be limited by zip code. We look forward to meeting, helping, and graduating many more students from our online speech therapy program!
Think your child would benefit from online speech therapy? Have more questions or concerns? Give us a call today to speak with our team and schedule your free virtual screening