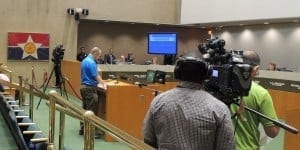 Dallas Reading and Language Services would like to thank all the Dallas City Council Members who politely listened to our office manager Stephen Betzen's speech today about our campaign for National Bullying Prevention Month.
Stephen stood before the city council at the 9:00 a.m. meeting this morning, and asked each of them to sign the pledge to "Be a Star, Not a Bully," and earn their star like the children at our school.
In our "Be a Star, Not a Bully" campaign, our therapists at Dallas Reading and Language Services first talk to the children in each session about bullying – what it is, how to recognize it, and what they can do about it – and then ask them to sign a pledge card promising to stand against bullying.
By signing the card, the child earns the right to put his or her name on a cut-out of a star, which the therapist then pins to a large poster in their waiting room.
By signing a similar pledge card, the mayor and city council members of Dallas will be setting a positive example for children and helping to empower the many children who suffer the ill effects of bullying every day in our community. As a pediatric speech therapy clinic, our therapists have seen plenty of children who have been targeted by bullies because of their special needs. We know firsthand how devastating to young lives it can be.
National Bullying Prevention Month was initiated in 2006 by the Parents Advocacy Coalition for Educational Rights (PACER). Students, schools, and communities across the world now unite together against bullying every October to raise awareness and encourage people to take action.
We will keep you all updated as the pledge cards come back and the photos are taken.