FOR IMMEDIATE RELEASE
December 18, 2015
Editorial Contacts:
Stephen Betzen, Office Manager, (214) 646-1570, sbetzen@dallasreading.com

Giving Tree Raises $1,300 for Promise House

Speech therapy clinic raises funds for at-risk and homeless youth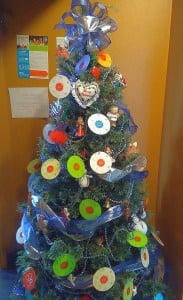 (DALLAS, Dec. 18, 2015) –With Christmas almost here, Dallas Reading and Language Services concludes their Giving Tree fundraising drive with $1,300 having been raised for homeless, runaway, and at-risk youth in Dallas. All the cash and credit card donations received will be sent to Promise House.
From Dec. 1, 2015 until Dec. 19, 2015, visitors to the clinic had an opportunity to take a paper ornament from the Giving Tree marked with $2, $5, $10, $20, $25, $50, $75, or $100. By making a cash or credit card donation in the amount listed on the ornament, the donor then received a wooden ornament to decorate and to replace the paper ornaments.
"It has really been a joy for our team to assist Promise House with their efforts to help young people" said Stephen Betzen, office manager of Dallas Reading and Language Services. "The holiday season really is about giving and Promise House provides such a wonderful service to our community."
Dallas Reading and Language Services has been a private practice clinic providing speech-language therapy and reading programs to children aged 3-18 years in North Texas since their founding in 2005. They are unique among North Texas speech therapy and language service providers for their focus on working with lower socio-economic families, as well as middle class and higher income families.
About Promise House
Promise House embraces homeless, runaway and at-risk youth, giving them needed support, encouragement and hope to live a better life. Their programs cover the vital needs of youth, including emergency shelter, transitional living, pregnant and parenting teen services, individual, group and family counseling, street outreach and educational intervention. Promise House is dedicated to providing the strength, stability and hope that youth need today to fulfill their promise for a healthy, productive and self-sufficient tomorrow. Since 1984, Promise House has had an open door 24 hours a day, 365 days a year to children, teens and families in crisis serving over 70,000 youth and families in North Texas.
# # #

Dallas Reading and Language Services is a provider of speech-language therapy and reading services to the Dallas community, employing licensed Speech-Language Pathologists and SLP Assistants.