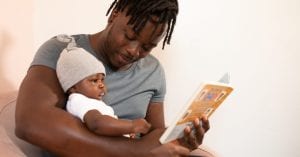 Reading with your children is essential to creating a variety of literacy skills at an early age. Research has shown the importance of exposing children to literacy by reading. However, sometimes it might be difficult to keep them engaged. Here are 3 tips to create effective and engaging Storytime with your child.
Shared book reading – This is when children are engaged with text and illustrations while reading. Parents should expose the child to vocabulary, ask questions about the illustrations, ask comprehension questions like who, what, when, where, and why, and make inference/prediction questions. Keep your child engaged in what they are reading and what the child thinks is going to happen next with images or context clues in the story. You can also connect books to personal life by finding a book that a child may connect to i.e. if your child is starting school you can find a book about the first day of school.  
Finding the right book – Choosing the right book and finding books that will keep your child engaged is crucial. Depending on your child's age, you want to look for books with appealing content and illustrations. If your child is into space, find books about space! For younger children, it is important to find books with predictable repetitive context i.e. Dr. Seuss. This gives the child the opportunity to create reading fluency and exposure to words that they may read independently during Storytime.
How to read books – When you are reading with your child it is important to read with enthusiasm. Create eye contact, add dramatic flair or even silly voices to keep the engagement while reading. You can also provide opportunities for your child to join in by reading along with you, taking turns reading or repeating what you just read.
Creating effective Storytime with your child can give them the skills that they need to succeed. Keeping your child engaged and interested in what they are reading makes reading fun. Pick up a good book and read with your child today!